[rev_slider alias="web-svc"]

Google 360 Virtual Tour Services Provider
We are a Google Trusted Agency and one of the first few companies that offer a High-Quality Virtual 360 Tour & Street View on Google in the Philippines.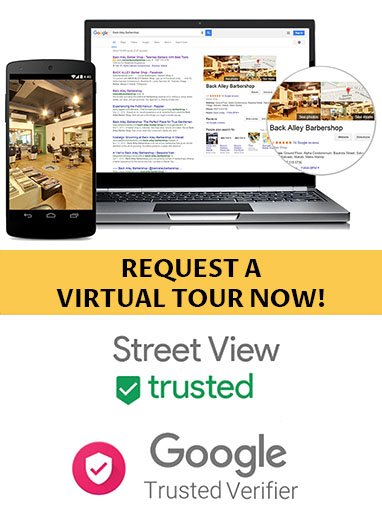 ---
For over 7 years of offering this service, we have provided many companies with the unique edge that they need with our services and expertise.
Don't miss out, be visible, and make your business stand out as you connect with your clients on Search, Google Maps, or Google+ with Vast Digital Solutions.
---
Cost-effective

Increase leads

Build your digital presence
Contact us today to schedule your Virtual Tour shoot!
Benefits of Having a Google Virtual Tour:
Adding a Google Virtual Tour to your business profile allows you to be more transparent; it is a great way to stand out over your competitors; it builds interaction between your clients and prospects; and it showcases what's inside your business. With its 24/7 capability as an online platform, you will be able to be present whenever and however your clients want to connect with you.
---

More Visibility on Google
Enhance your online presence by being easily found when customers look for you online no matter where they are and what device they are using! Be found on Google Search, Google Plus, and even Google Maps areas!

Wow Factor
Stand out more among other businesses that offer the same service as you and add an extra appeal to your potential guests.
---

Innovation
Keep up with today's competitive market by skipping just the old still images on your website and give your potential customers a closer look at your business.
Improves Customer Experience
Worry no more about time and distance and provide a better customer experience by being accessible anytime and anywhere.
---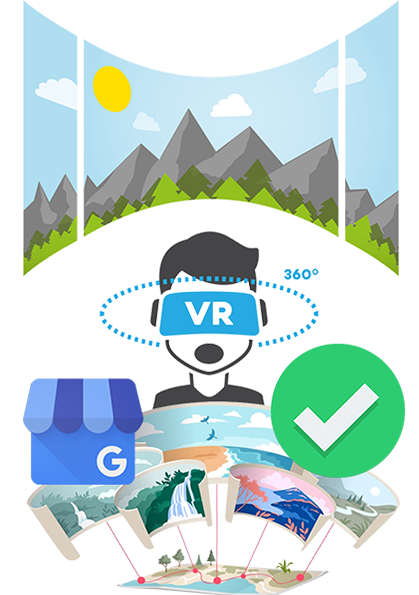 ---

Generates More Audience
Entice your potential guests and clients by giving them a unique 3d virtual tour or virtual trip of your premises with just a click of a mouse.

Cost-effective
Get a cost-effective digital marketing strategy with lifetime benefits that only comes in one single package and with absolutely no monthly fee!
Get More Exposure
Have an easily embedded feature on your Website, Facebook, Forums, Blogs, and any other sites that take HTML code to broaden your audience and gain more exposure online.
---

Increases Customer Engagement
Increase customer engagement and allow your potential clients to explore while also providing them transparency about your business.

Made by Google
Partner with one of the world's most popular search engines so expect to always be on trend, get fast and reliable results, build a powerful or strong online presence, and contribute to the growth of your business.
Our Services
Work with a skilled and experienced team like us! We are a Google Trusted Agency, Google Trusted Photographers, and Google Trusted Verifiers based in the Philippines offering a range of services from 360 Virtual Tour, 360 Panorama Tour, 360 Panorama Photo, 360 Degree Photo, 360 Photosphere, 360 Aerial Photos, and many more!
---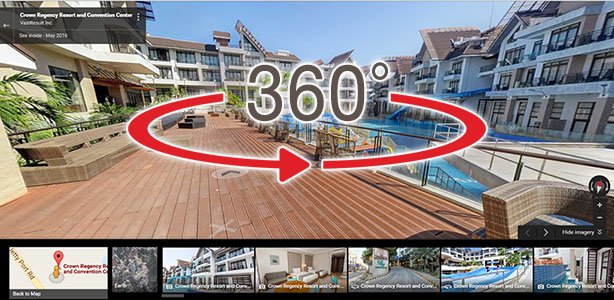 360 Virtual Tour / 360 Panorama Tour
Allow your potential clients and visitors to have a tour at your business premises virtually in high definition without the need for an actual visit.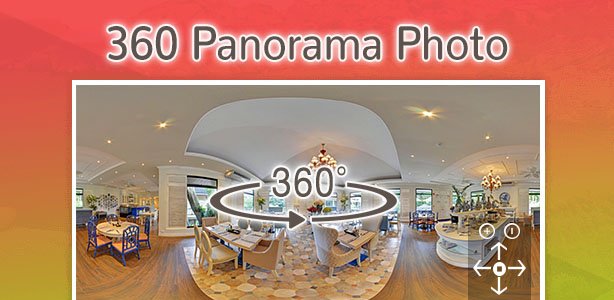 360 Panorama Photo / 360 Photosphere
Help your clients take a closer look at a portion of your site in one frame with a wider coverage than normal still photos can provide.
Take your viewers to an immersive experience with an entire 360-degree sphere view of your business premises.

360 Aerial Photos
Let your viewers explore your business surroundings in an entirely greater and broader vision more than just what's inside it.
Looking to work with a DIGITAL MARKETING AGENCY?
website developer near me
website creation business
website services
website company
website redesigning
custom website design
create my business website
website creators
create your own website
website design for beginners
freelance web developer
business website builder
SEO
WordPress
Company Website
Website Layouts
Enterprise Website
Custom Web Application Development
Web System
professional web design
well-designed website
effective website
Enterprise web designs
brochure-style website
Powerful Web Development and Design Team
constructing websites
web development firm
online marketing
digital marketing services
internet marketing
digital marketing agencies
digital marketing
social media marketing company
internet marketing services
digital marketing company
online advertising
online digital marketing
internet marketing company
online marketing agency
digital media marketing
internet marketing agency
about digital marketing
online marketing companies
digital marketing website
marketing agency
social media marketing agency
web marketing
digital advertising
social media agency
online marketing services
media marketing
website marketing
outsourcing services international
outsourcing services for hotels
outsourcing services in the philippines
outsourcing services examples
social media outsourcing
social media package
best web design
design agency
web development services
best web development company
business website design
graphic design company
creative website design
web company
design work
web design and development company
web designing and development
digital marketing web design
website design
webiste design agency
web development
web design
develop web
web site
create your business website
web creation sites
business website creation
web design agency
optimized website
website design agency
website for designers
responsive website
designer websites
new websites
website web
web design is
best websites to create
website development
responsive web design
web design services
business website
website design ideas
best website design
design a website
web developer companies
web page design
responsive design
website development company
web layout
website layout design
website layout
web developer sites
create branding
build your brand
your brand
create your brand
build brand
make brand
design your brand
make your brand
website developer
website design and development company
outsource web development
website development services
web app development company
website development agency
creative web design
website design services
website developers
corporate website design
web development agency
web development company
web design company
website design company
small business website design
digital agency website
web design services for small business
web design websites
web design online
web design new york
website design new york
website deisng and development services
creative agency website
web design blog
digital marketing design
Brands We Have Catered Our Services To
Here is the list of brands we have catered to our 360 virtual tour services so far.
Our Process
We follow a standard process when it comes to the production of our 360 virtual tours from shoot, creation, going live, claiming your business on Google, making updates, to optimizing your website.
---
Shoot
We conduct a shoot of your entire business premises or the areas you want your audience to see.

Creation
We then proceed to the creation of the 3D tour from the photos that we have gathered.

Go Live
We paste the virtual tour on your website and go live to make it visible to the public.
Claim
Using our technology and tools, you can claim ownership of your business for it to be recognized by Google as yours.
---
Update
We make necessary updates on your website or virtual tour depending on your preference.
Optimize
We optimize your website to convert visitors into prospects and sales.
Why Choose Our 360 Virtual Tour Services?
Get to know more about Vast Digital Solutions and why your business should choose our 360 virtual tour services.
---
---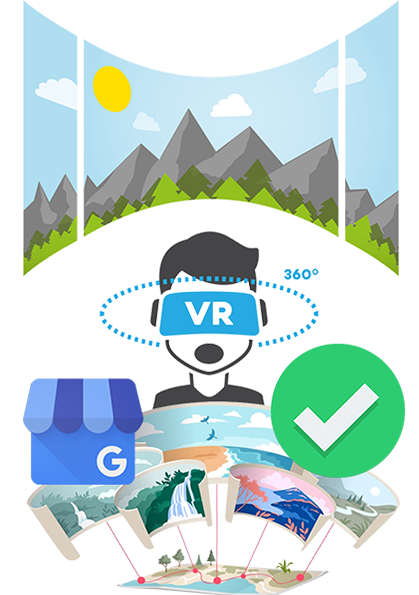 We have been a trusted partner of Google for many years and one of the leading Digital Marketing companies in the Philippines. Being part of the first few companies to offer Google 360 virtual tour in the country, We came across various client backgrounds and has gained numerous experience in the field. But among all the competitors we have, why would you choose Vast Digital Solutions? Here are a few things to expect when you're working with us:
---
A Google Trusted Agency for many years
Familiar with Google Business Profile where you can claim ownership of your business on Google
Prompt response to inquiries, concerns, and quotation requirements
Up-to-date knowledge of the latest marketing trends
Professional and top-quality services
Minimal supervision
Transparency and seamless communication 
Innovative and efficient
All-in-one marketing solutions provider (Website, Social Media Management, Google Ads, etc.)
Goal-oriented team
1 Year support
---
Testimonials
Let's take a look at what our clients are saying about our 360 Virtual Tours services.
---
Caleb F.
11. November, 2022.
We are very pleased with the VR tour on our website that Vast Digital Solutions provided for us. Quality work and professional team and not very hard to reach. I wouldn't hesitate to recommend them to any organizations looking for VR tours. Thank you!
Roger D.G.
11. November, 2022.
We saved so much time from ocular visits and explanations thanks to the virtual tour on our website especially since our resort is wide and has a lot of amenities. We love how it provides transparency to our guests and how easily accessible it is. Definitely recommended and we would love to work with Vast Digital Solutions again.
Katie M.
11. November, 2022.
We are so glad to come across Vast Digital Solutions for our business. The 360-degree virtual tour feature was very detailed and it showcased the beauty of our place perfectly well. I didn't know we needed it until we met them. The team also pays good attention to detail and we are very impressed with the outcome.
---
What Is 360 Virtual Tour And Why Should I Avail It For My Business?
Learn what a 360 virtual tour is and its importance for your business.
---
---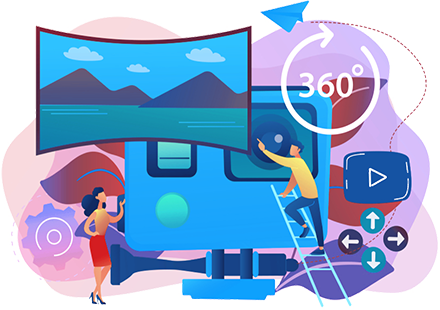 We are all familiar with the fact that Google Map's technology offers satellite images, aerial photography, street maps, 360-degree panoramic views of streets, actual traffic state, and route mapping for those traveling using different kinds of transportation. The reason this is mentioned is that Google's 360 virtual tour also functions in a similar way. It works similarly to a street view on Google Maps with its interactive panoramas that can access and view almost any destination in the world.
A 360 Virtual Tour is a collection of 360-degree panoramic pictures that are stitched together to form an entire 360 view of an area or location. It is designed to create a high-resolution visual experience for the viewer with full control of the area they want to access and the ability to zoom in or out or enhance the area they want to view. In other words, Google Street View shows the overview of every street in the world while the Google 360 virtual tour shows the inside of your business in particular from every angle.
A virtual tour is a useful marketing tool that can help generate new customers for your business with its ability to provide a unique user experience like providing your users with virtual field trips to every corner of your premises. It also showcases your business in a better way than still photos cannot provide. It's also a lifetime offer that definitely produces long-term benefits for your business!
We follow a standard process when it comes to the production of our 360 virtual tours from shoot, creation, going live, claiming your business on Google, making updates, to optimizing your website.
---
See some of our works.
We take pride in the projects that we do and continue to cater to more clients and businesses of different industries all over the Philippines.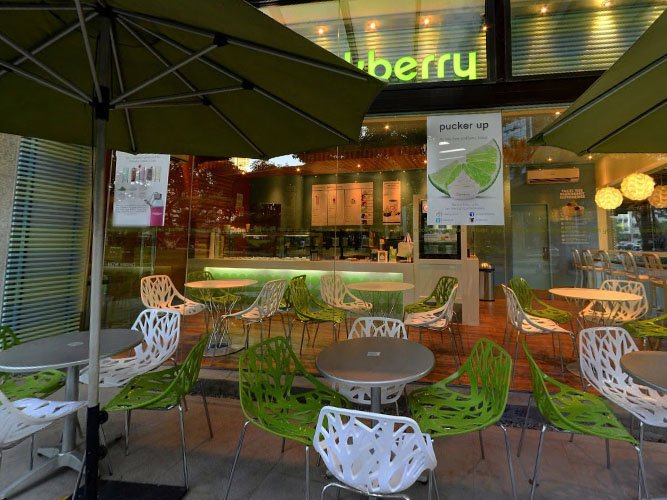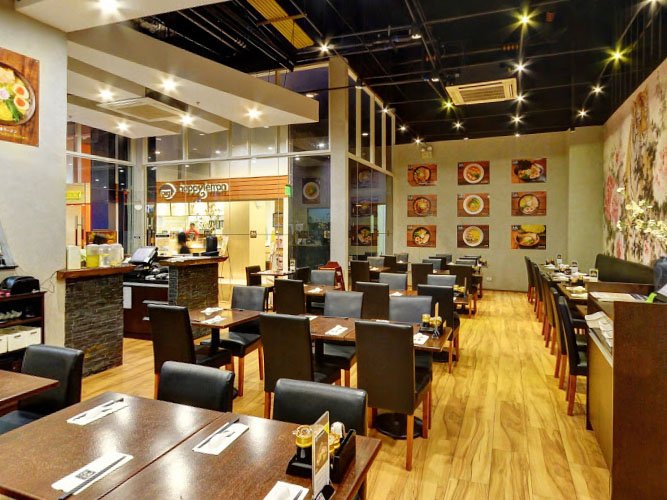 ---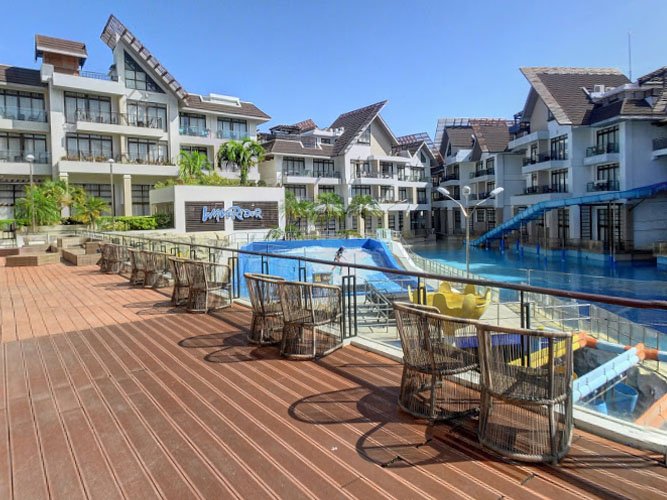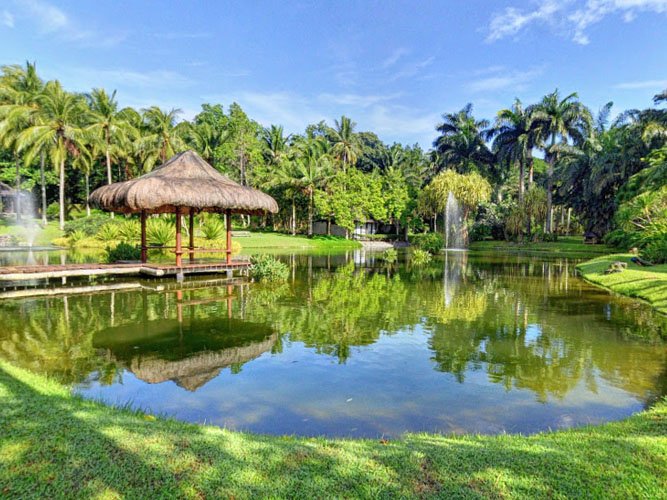 ---
Google 360 Tour lets customers see the inside of your business!
---
With Google Street View Virtual Tours
your customers can walk inside your business, see the ambience and decor with familiar Street View navigation. Customers will be able to truly experience your business - just like being there!
---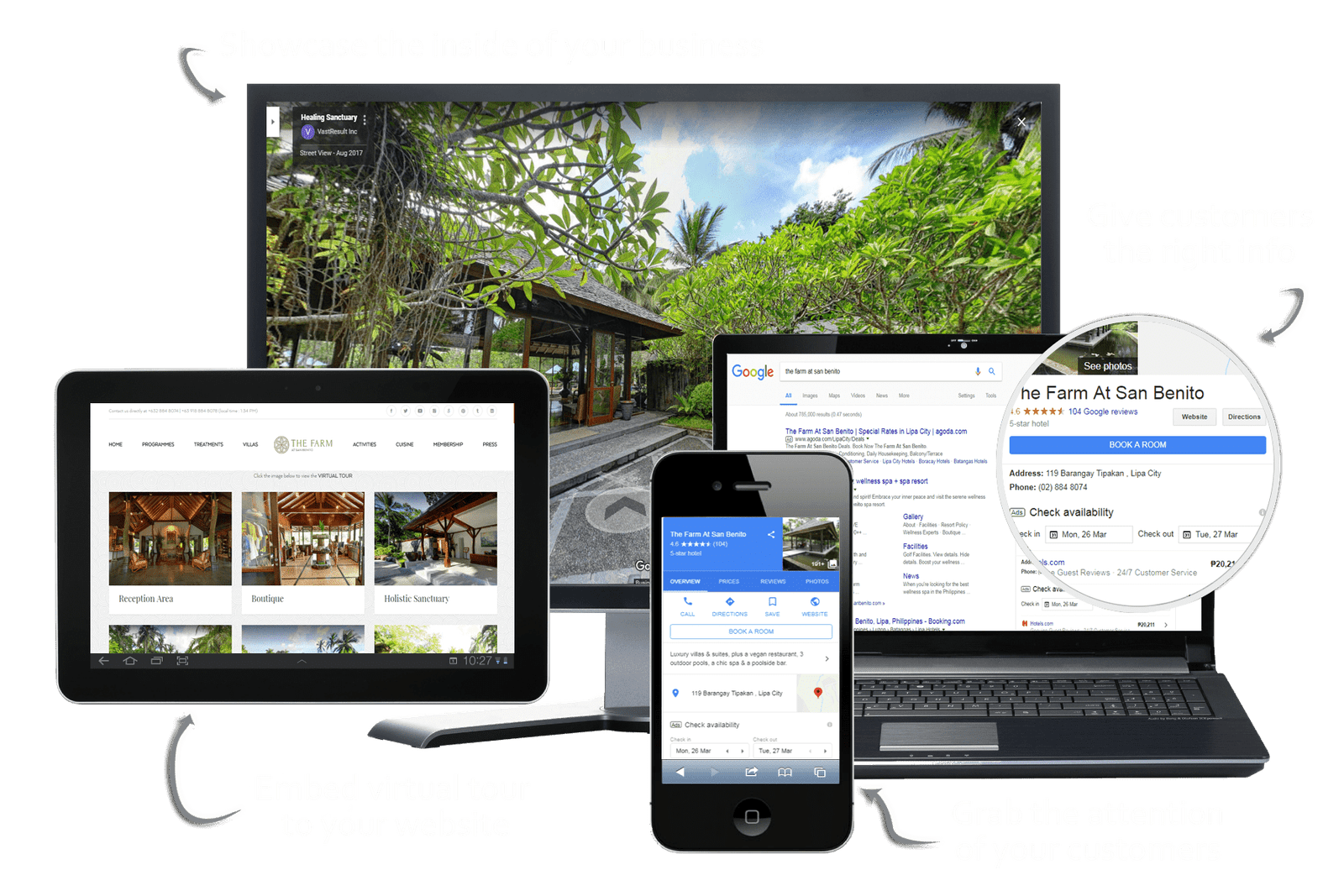 Get your Business on Google today!
---
TALK TO ONE OF OUR GOOGLE STREETVIEW SPECIALISTS NOW!
With the rate at how fast the technology is evolving, every business owner should make a move to innovate, continuously monitor the trend and adapt to it or risk the chance of getting left behind!
Go Virtual now and stand out! Start by having a Google 360 Tour for your business!
---
Are you ready for your digital campaign?
Get in touch
with us
---
+63 977 803 5259
+63 977 124 6333
sales@vastdigitalsolutions.com
---
vast digital solutions, website, web design, website design, digital marketing, ecommerce website, website revamp, website redesign, website design and development, one page website, parallax website, website with google ads campaign, online visibility, internet marketing, online marketing, b2b, business to business, b2c, business to customer, business website, small business, medum business, google streetview virtual tour, 360 virtual tour, aerial 360, google ads campaign, google ads, social media marketing,social media agency, digital marketing, internet marketing, digital agency, web design, web development, website design, website development, digital marketing, internet marketing, social media management, pay per click, social media management, internet marketing, search engine marketing, search engine optimization, seo, content strategy, content marketing, web development, website development, business development, wordpress website, wordpress development, virtual assistant, virtual assistance, encoder, encoding, accounting services, administrative services, media agency, multimedia, business development, design agency, ecommerce website, responsive website marketing, sales, branding, brand awareness, dynamic website, appointment setting, leade generation, crm, inbound call, outbound call center, outbound call center, salesforce, hubspot, lead generation, marketing, sales, video marketing, linkein, facebook, instagram, telemarketing services, appointment setting, social media strategy, content strategy, good lead services, quality sales leads, accounting, new business leads, video marketing
Send your message for an obligation-free chat!