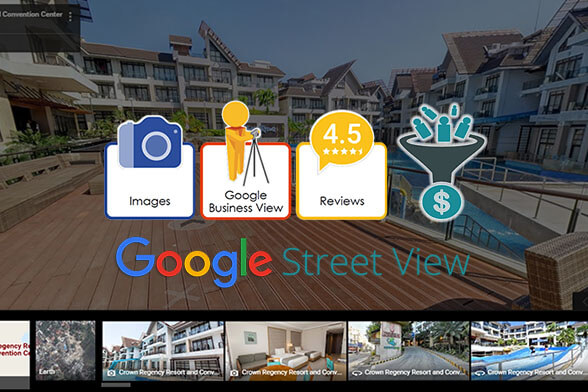 Google Street View – 360° Virtual Tour gives a clear virtual look of a certain place, road, area or an establishment's facilities – ability that hotels and other businesses can acquire to sell and market their businesses digitally and effectively.
Here are our top reasons why you need to have a Google Street View – 360° Virtual Tour for your business:
1. IT HELPS TO DETERMINE THE MARKET POTENTIAL. It is now easy to gather feedback, information and understanding the needs of the possible clients who are looking for a comfortable hotel to stay at. Digital feasibility study is now possible through the help of Google Street View.
2. LESS COST PROMOTION. Imagine your whole Hotel can be virtually viewed on Google Search, your website, blogsites and Facebook Page. In just a few minutes, you have digitally brought your hotel closer to your target market through various platforms. This is so much better and low cost marketing strategy to market your hotel!
3. IT SHORTENS THE DECISION MAKING PROCESS. No need to travel, no need to set schedule for a traditional Ocular Tour for possible clients to decide whether they will avail hotel accommodations while they are on a business trip or in a vacation. It saves your time, it also saves their time. Google Street View – 360° Virtual Tour is a powerful tool to help your target market decide at the comfort of their offices, home or even while having coffee at the coffee shop.
4. PUTS YOUR HOTEL IN THE MAP. You have to be visible to let your target market across the globe become aware of what your business can offer them. Google Street View – 360° Virtual Tour simply put your business in the map that can be searched and viewed in the World Wide Web! 24x7!
5. IT INCREASE SALES. Consumers are very visual nowadays. When a customer's attention is caught longer or repeatedly by a brand, it makes it more likely that their product/service will be bought. Google Street View – 360° Virtual Tour helps to promote hotels and other businesses in a larger market. It can virtually showcase the uniqueness of Hotel facilities that people would love to see and experience.